Enterprise Forms with Workflow
Workflow Management System for Form-Based Processes
Form.com Brings Agility to Your Business Processes
Form.com lets you facilitate the flow of your enterprise data according to your specific business needs. The flexible core technology and workflow forms let you automate, track, audit, and report your form-based operations, ensuring their accuracy and security.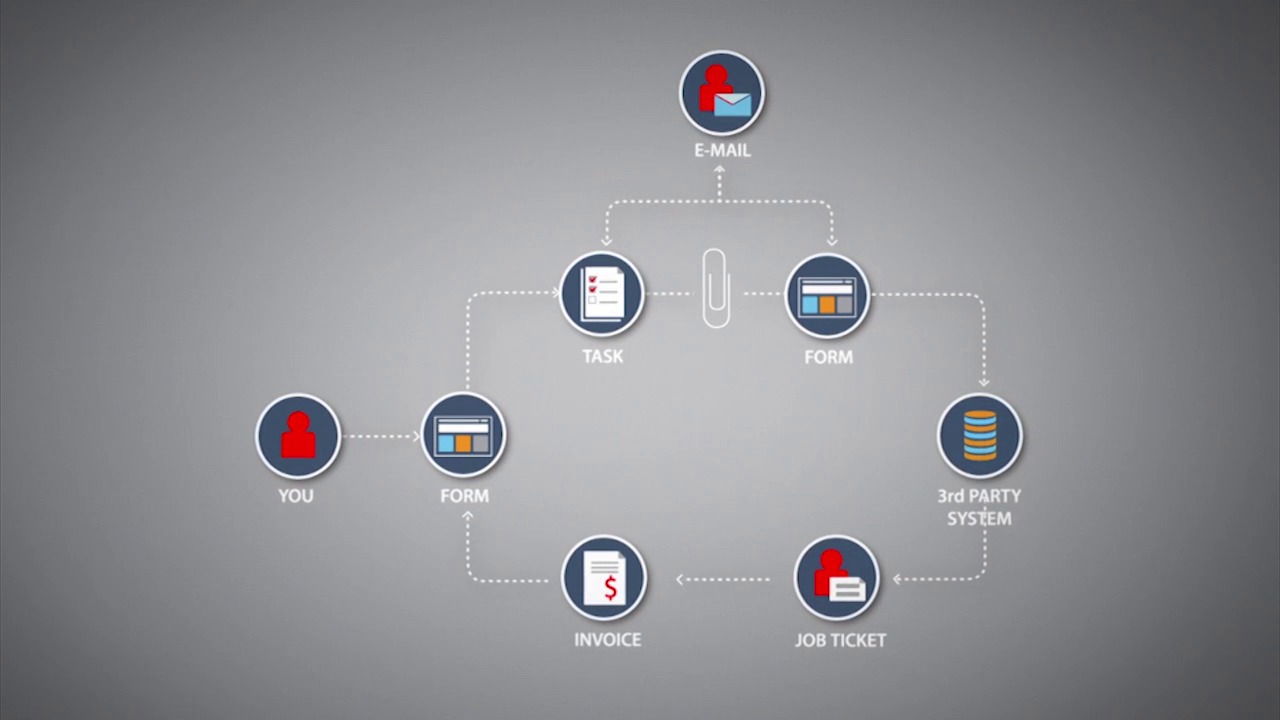 Modular core technology built in to the platform gives you the flexibility you need to configure an end-to-end forms solution that streamlines all areas of your business process including:
Getting the right forms to the right people: Form.com lets you define who has access to what forms and what information. Forms can be configured with data models to display information within your forms, auto-fill fields, and pre-populate dropdowns with data relevant to the work item or task. They can also create a logical user experience with a variety of features, including access levels, user permissions, and JavaScript API integration.
Adding conditions and context to the task: By applying logic to forms, you can route information and guide users based on your specific business needs. Schedule tasks and events based on specific responses, automatically generate alerts with attachments, and establish escalation paths for approvals.
Manage task execution and follow up: Arrange a sequence of events that triggers once a task or work item is completed. Depending on your business needs, forms can be submitted multiple times or transitioned to a new series of forms. Submitted data uploads to the Form.com database or synchronizes with other programs through data integration and API calls for further processing and analysis.
Enterprise Workflow Management
For more complex business processes, such as mapping the actual flow of work and visualizing where data transactions are taking place, use Form.com's workflow engine. Our forms workflow engine helps to simplify data collection, documentation, task management, and automation between your employees and the various programs in use. As the nerve center powering daily operations, Form.com's workflow functionality improves your business effectiveness. It forms a connection between high-order process management and low line-of-business interactions through automation and archiving.
4 signs it's time to add workflow to enterprise operations
Too much time spent on low-value tasks
Some employees are overloaded with work, while others remain idle
Log jams occur when management is not available for approvals
Inability to track efficiency and execution due to process blind spots
How Smarter Workflow Impacts Your Business
Easily manage, monitor, analyze and optimize your data-driven operations
Seamlessly integrate existing legacy systems, other software applications and processes across the enterprise (enterprise workflow)
Eliminate bottlenecks from manual or paper-based processes that cause delays and miscommunications
Improve productivity in collaborative business environments
Allow your mobile workforce to remain connected to the business process regardless of location
READY TO TAKE A TEST DRIVE?
REQUEST A DEMO
Would a quick conversation be better?
---